The Lions come out to Play
In the past few months there's been so much controversy for England; there were racism rows, Fabio Capello got sacked, the nation's favourite (Harry Redknapp) was snubbed for the not-so-popular Roy Hodgson, big players were dropped, big players became injured and a lot smaller replacements were unexpectedly called up. But today England kick-off their Euro 2012 campaign at 5pm (UK time) against France.
It's fair to say that the expectations for England to succeed at Euro 2012 are the lowest of any other international tournament they've been in for a good number of years, with the team's plane booked for the day after their final group game. There's normally such a phenomenal amount of pressure thrown onto England's players when the international tournaments start. A lot of this is because of the media, who raise expectations so much that the nation simply expect way too much every time. For once, perhaps there's a little less pressure for them, which could really help the younger players shine and enjoy the football that they're playing.
This squad has a lot less veterans; the ones who have repeatedly been through the pressure and heartbreak of England's international campaigns. This means that we're starting fresh – there's a new mentality in the training camp; players have said that communication is better with an English manager, making it much easier for players and management.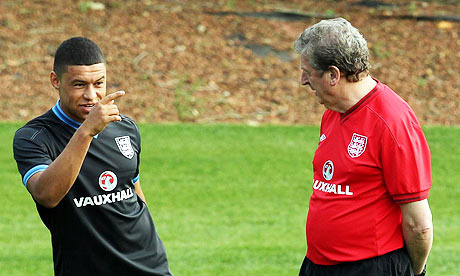 Oxlade-Chamberlain is set to start for England, after playing only 84 minutes of international football.
England are in Group D – the last of the groups – which consists of England, France, Sweden & joint-hosts Ukraine. All the other groups have now played 1 game each with a few shocks so far: the opening game saw 2 red cards, Russia look like they mean business and Spain aren't actually top of their group (yet!).
It will be interesting to see what unfolds tonight. The youth have to go out there and show what they're made of whilst the veterans can guide them through it. Euro 2012 will be full of entertainment and surprises!
So what are your predictions of the game tonight? And which teams do you think will progress to the knockout stages? Let me know in the comments!